Installing Dragon for Windows
Contents:
This will cost $150, plus tax depending on what country you're in.
When you have bought DragonDictate, go to your email and look for the receipt. There will be a download link there for you to download your purchase.
When it is done, it will be in your downloads folder.
Choose where you want to download dragon
Dragon Will Download itself and start installing.
Follow the steps for the Dragon InstallShield Wizard.
Accept the licensing agreement.
Enter your name, organization, and serial number
Enter what region you are from. Dragon Dictate will set things up by default to try and understand your accent.
Click install to install dragon dictate
Eventually, the installation will complete.
You can now double-click on the Dragon Dictate icon. Since I installed it on my desktop, that's where I find it.
It will take you to a screen with your serial number. Click next to activate. You will see a thank you for activation screen.
Press launch. It will take you into the new profile screen. Press next.
Make up a name for your Dragon Dictate profile.
Choose your regional accent.
Choose your microphone. The built-in microphone most computers have is enough to get started with, but the better micropohone you have the better your experience will be.
Adjust your microphone so that either a headset microphone is at the corner of your mouth or a regular microphone is two feet straight in front of you.
Now we train a Dragon Dictate profile to understand you by reading text so it can analyze an accent.
And now the configuration is complete.
Dragon is customizing itself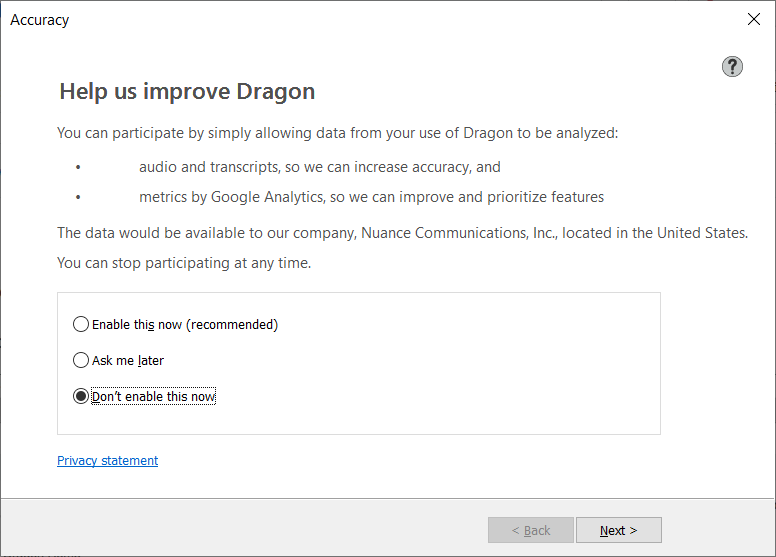 Dragon is now ready to use. As soon as you click next, it will open a series of tutorials.
It is useful to follow the tutorials, but it is more useful to know two things:
First, the command "what can I say" shows you what command options you have in a particular window.
Second, you can go back to the Interactive Tutorial at any time by
moving your mouse up to the DragonDictate bar
when it expands moving your mouse to hover over the help button,
click on the help button,
and choose interactive menu.